Hey everyone, here is info about our March concert (Cindy Kallet & Grey Larsen on March 1st), but first, a reminder of two upcoming events this weekend, also in the Common House!
Coming up this weekend…
Saturday, Feb 16th, 7 PM: Dean Stevens and Steven Katz to benefit the Pioneer Valley Worker's Center
Sunday, Feb 17th, 3 PM: Gordon Kramer afternoon concert
And then the first Friday in March…
Friday, March 1st, 7:30 PM: Cindy Kallet & Grey Larsen
Here's the weekend info first!
This Saturday, Feb 16th, in a benefit concert for the Pioneer Valley Workers Center, we're hosting two really great musicians with completely different styles. Many of you know Boston-based songwriter Dean Stevens, a long-time activist for immigrant rights, as well as an eloquent musical spokesman for, peace justice, and the beauty of the planet. And Stephen Katz, local hero of cello-based wonderfulness is a friend and inspiration to many of us. Here's the flyer, and some words by Dyan Wiley, who has put this event together. Please come out!
then, the very next day...
Gordon Kramer
with Devin Griffiths and Rob Peck

From Gordon:
Dear friends, hoping this finds you well…
I was pleased, and honored, that so many of you came out for my November house concert in Williamsburg, MA – and am excited to be planning another show soon, "east of the river". I'll be joined again by Rob Peck on harmonica, and Devin Griffiths on lead guitar. If you came to the November show, I promise to include some different material in the next show, including – hopefully – a couple of new originals now in progress. Meanwhile, please enjoy 
this video clip
 of my original song Redbird from River Rhapsody's Hawks and Reed show 
on December 27.
About the venue
: The Pioneer Valley Cohousing Common House is a big, beautiful and bright room, that already hosts a concert series on the first 
Friday
 of each month. Doors will open 
at 2:30 pm
, music will begin promptly at 
3:00
. A donation of $10 is requested, but please give what is comfortable for you. 50% of all proceeds will be donated to charity. 
For more information
: 
houseconcert@gskramer.com
And then, our First Friday Concert in March…
Cindy Kallet & Grey Larsen
Cindy Kallet and Grey Larsen, each well-known and loved for their decades of music making, have spent well over a decade in a joyful musical collaboration.
Cindy is a superb singer, guitarist, songwriter, and multi-instrumentalist.
Grey is one of America's finest players of the Irish flute and tin whistle, as well as an accomplished singer and concertina, fiddle, piano and harmonium player. As composers each contributes to the tapestry of contemporary folk and world music as it flourishes in the US today. Together, they weave songs and tunes of vibrant color and rich texture.
Listen and watch here: http://kalletlarsen.com/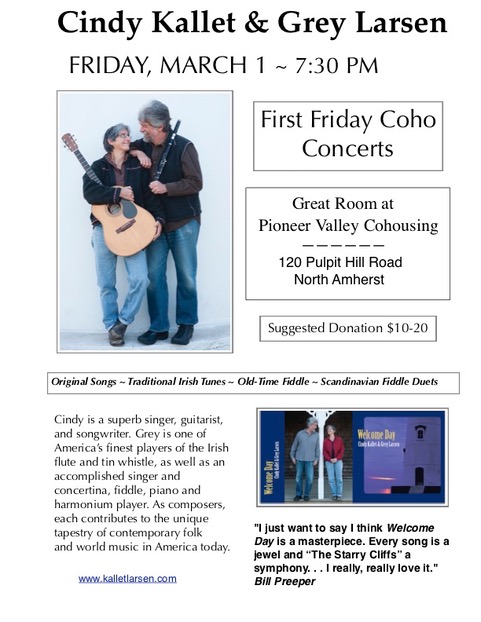 And finally, coming up on the 2nd Friday in April: songwriter Jay Mankita – mark it down, I know I will!
🙂
Series: First 
Friday
 Concerts at Coho
Venue: Great Room at Pioneer Valley Cohousing, 120 Pulpit Hill Road in North Amherst.
Doors open: 
at 7 PM
, Concert 
starts at 7:30
.
Suggested Donation: $10-$20
Refreshments available.
This is a smoke and fragrance-free venue.
Facility is wheelchair accessible
Located in beautiful North Amherst, MA, the series provides a creative forum for talented and visionary musicians to share their gifts and be supported by attendee contributions in a way that values their artistry and encourages their dedication to building a brighter world. Performances take place in the Common House "Great Room": a space intimate enough to feel like a house concert but large enough to draw in the broader community. The series is a purely volunteer effort, organized by Co-Housing members who enjoy live music and want to share their delight with other music lovers in the Valley.
We hope you'll join us in the audience, or as a volunteer.